If you have ever been out on the water sailing, you realize that it can be a very peaceful time in life. There is also the possibility of something unexpected to happen and sometimes, the most beautiful thing happens right before your eyes. When Michael Fishbach was out sailing with his team, they also saw something that nobody could have expected to see.
As the co-founder of The Great Whale Conservancy (GWC), he spends a lot of time out on the water but this is an encounter that was unlike anything he had ever experienced before. It happened when they saw a humpback whale. It had become entangled in the nets from local fisherman and everyone on the boat thought that it had died. It was then that it rolled slightly and forced out of breath from its blowhole.
The humpback whale could not swim because its fins were trapped in the netting. Everyone on the boat realized that something had to be done quickly or the whale would certainly die. Without their fast actions, the whale probably wouldn't have survived much longer. It was floating beneath the surface and whales need oxygen to breathe.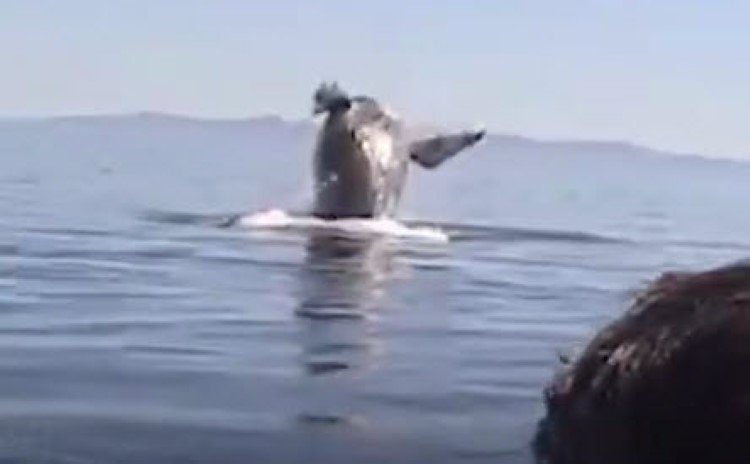 Not only did they have to cut the netting from around the whale, they also had to keep her calm while they were doing the task. There was even a time when the whale started swimming and pulled the crew for over a half mile before they could continue their rescue work.
The crew decided to name the whale Valentina after she was rescued. She knew that the humans were not there to do her harm and seemed to sense that they were there to help her. When she finally was set free from the netting, she swam off and seemed very thankful that she was now free from the netting.
Rather than simply swimming away into the distance, she decided to give a thank you to her rescuers. Valentina proceeded to perform in front of the crew in a grandiose way for an entire hour. It seemed as if she just wanted to show the humans that she was grateful for what they did.
This video is narrated by Michael Fischbach. He talks about how they were able to save the whale on that day. You can see the rescue video below: