When we have a dog in our family, it isn't long before we form a bond with them that is unbreakable. In fact, I think most people would agree that the love they feel for their dog is as strong as or stronger than any love for other members of the family. After all, dogs give unconditional love in a way that most humans will never be able to duplicate. Once we have them by our side, there is no way we would ever live life without such a faithful companion. There are times, however, when this gets taken to the next level.
That 'next level' is often seen when it comes to the love that children have for dogs. There is just something special about that bond, and it comes through loud and clear when you see a little girl in 2017 and her deaf Great Dane. They may seem like a mismatched pair but it is so beautiful to see in action. As a newborn, the little girl received this dog and the family hoped that they would form a bond. Little did they know that they would share something special from that moment forward.
Echo, the Great Dane would not have lived long if she wasn't rescued. SHe was born deaf and was neglected by her former owner. At one time, they even threatened to put the dog to sleep because they felt she was 'useless'. What this pooch needed was a special family that would care for her needs.
That is when the Louisiana Great Dane Rescue got involved. They heard about Echo's plight and stepped in to rescue her. Her stomach was full of rocks, so she was starving and she had been spayed at a young age. The rescue reported:
"She was 12 weeks old and was 15 pounds underweight and had a belly full of rocks. We took her to the vet and he said this is very common in dogs that don't get fed, that are neglected and they develop pica and she was literally trying to eat everything."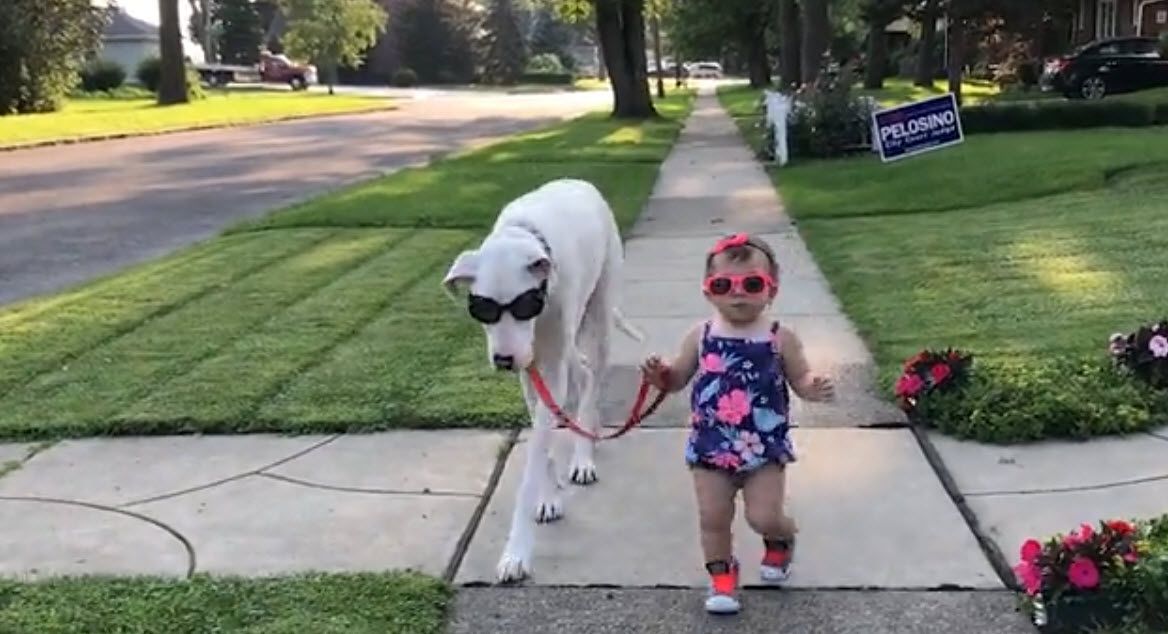 After being cared for properly, she got healthier and they started looking for a forever home. When Jennie was born, Echo became a caring a loving part of her life.
The two of them would go for walks and enjoy other activities together. Marion spoke more about the bond they have:
"Well, it was funny because the first picture I posted on Facebook and with our family, we had a shred album-they said you have to-we should like send it to the news and I thought, no it's just the two of them being cute together."
You can watch these BFFs walking together in the following video: