Generation after generation, most teens often have many wild misconceptions about what it's like to care for a baby. Unlike small children, babies are a completely different ball game. They don't understand you. They won't listen to you. And you must always find a way to appease them, or else be prepared for some ringing eardrums. The students at Chippewa Secondary School learned this lesson the hard way, and folks out there are savoring every delectable moment of their misery. They got to take their little bundles of joy home over the weekend. However, that was more than enough time for this innovative learning experience to drive some of the kids up the wall!
Many kids texted their instructor, whether they were looking for answers or merely sympathetic shoulder to cry on. The text messages perfectly summed up the agony, torment, desperation, and resentment these kids spiraled into during their very long weekend. "Our students are in a grade 11 class called Raising Healthy Children," the teacher of the class, Andrea Lefebvre told Bored Panda. "The students bring home one of the Real Care babies for the weekend to apply their learning for the caring for a newborn unit." Lefebvre also said that the babies cry and require that the students hold, rock burp, feed them, and change their diapers. These smart dolls also record rough handling, temperatures, and abuse. It looks like the only thing missing from the "experience" is wiping snotty noses, but we wouldn't be surprised if that's coming down the pipeline.

"Our school board (Near North District School Board) owns the babies and each school accesses them through the year for their classes," Lefebvre added. "Lots of use!"

"Students look forward to this unit when they register for the course. We really love this unit. Great discussions and real-life learning."
Parenting Education tries to better prepare students for the challenges of parenthood. The content of these classes can vary from one school to another. They range from behavior-management approaches to relationship enhancement techniques. However, these programs all have the same principle in stock, which is that parents play an essential role in the development of children, and they can be much more productive with the right education and training.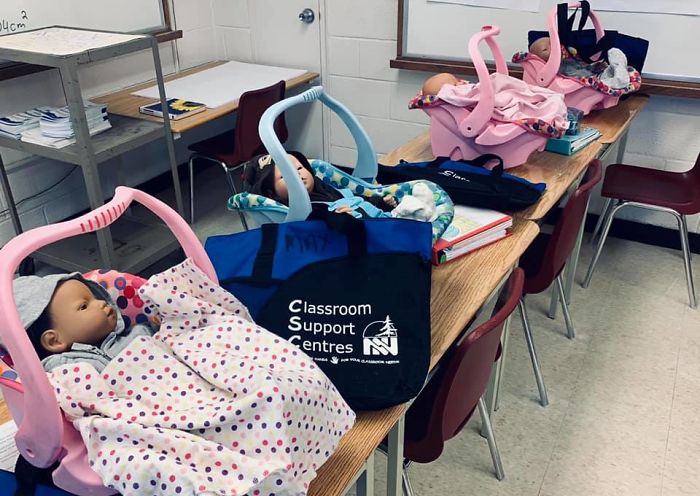 "Through the chaos that is child-rearing, we can reach out to find support, find humor in the crazy situations and with love and guidance, know that our kids will be ok!" Lefebvre concluded.

P.S. "Lucy survived and the data showed the students did very well."
Here are just a few of the hilarious texts sent by her students.
1.

2.

3.

4.

5.

6.

7.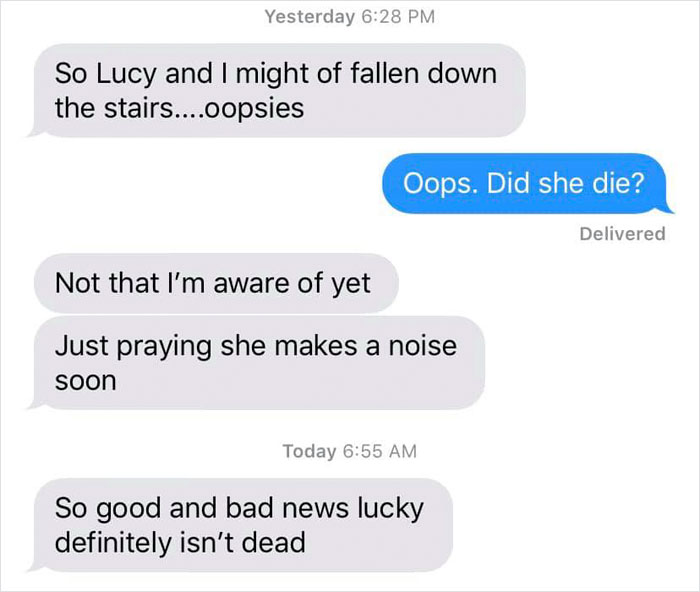 Meanwhile, parents online enjoyed a hefty helping of schadenfreude while reading the texts.

Source: Bored Panda