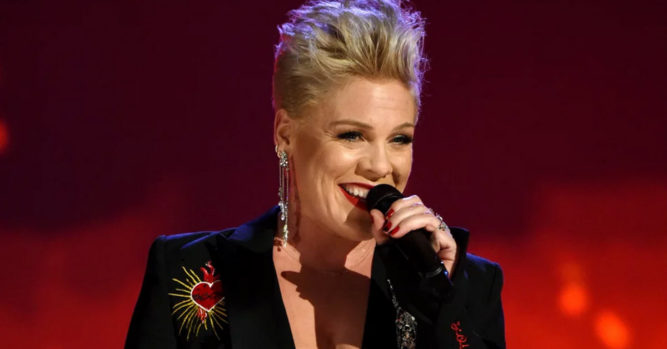 Did you ever notice that there are certain songs that people seem to cover over and over again? Perhaps you might think about the song, Hallelujah, and the dozens, if not hundreds of people who have posted videos online singing this song in various ways. Some of them are professionals, others are amateurs but it just seems to be one of those songs that set the bar.
Another one of those songs is an old Dolly Parton tune, Jolene. It is one of the most popular country music songs of all time and it has been covered by many artists, as well as many amateurs. One of the artists that has covered it recently is Pink. You might think of her as doing rock music but she can nail this music as well. When performing at a Dolly Parton tribute, she did something that was incredible.
A number of famous musicians came out to honor Dolly Parton at the MusiCares Person of the Year gala in L.A. When it was Pink's turn on the stage, she did a Dolly Parton classic, Jolene.
I've heard a lot of impressive covers of this song over the years but this one is going to be hard to top. Listen in this video and tell me she isn't awesome:
There is something amazing that happens when one star honors another. Pink does this cover with perfection and she may just become a legend for it.
As it turns out, Pink is having an amazing week overall. She received her star on the Hollywood Walk of Fame and she stopped to take some pictures with her family.
She was with her husband Carey Hart, their daughter Willow, seven, and son Jameson, two, when she received her star and everyone was thrilled.
Imagine watching your mother getting a star on the walk of fame! Of course, they get to see their mother do a lot of awesome things!
Dolly Parton delivered an acceptance speech after a number of musicians performed for her. She said: "I have actually worked with so many wonderful men, and I've never met a man that I didn't like," Parton said during her acceptance speech. "But I've never met a man whose ass I couldn't kick if he didn't treat me with the right respect."
I guess it's easy to see why Pink got things started. She has as much talent as Dolly.
Pick also offered a speech at the ceremony and it is well worth hearing: "It's been two decades and it's been meaningful and it's been awesome. Today for me is a celebration of something that my dad taught me. And that is 'to thine own self be true' … There is a power in believing in yourself — you may not be the best that ever did it, you may not be the prettiest or the tallest of the funniest or the most talented … if you're stubborn and you don't give up and you work really hard — no one else can ever be you. Today is an absolute honor. Today proves that."