When you look up into the sky at any time of day, you are going to see airplanes flying overhead. Some of them you will see clearly, others you may not see at all. The reason why that is the case is that there are some 14,000 commercial jetliners in the air at any given time. Those planes take off and land in areas around the world and, even though there are vast runways in all major cities, they sometimes have a difficult time keeping up with the traffic.
If you have spent any amount of time flying, you realize that it doesn't take much to cause a delay to occur. It could be poor scheduling, bad weather or perhaps even questions about the safety of the airline but in any case, delays are a common occurrence. You've probably even seen some of the craziness in online videos from what happens on these delayed flights. That is why it should not be a surprise that Kristin Wiley, a woman who was on this plane, took a picture of what was taking place with the passengers in front of her.
Kristen was at the Seattle-Tacoma airport and she was stuck on a jumbo jet. Although Alaska Airlines flight 748 was due to take off, it hadn't budged.
She shared:
"We are currently sitting on a plane, with a 45 minute delay. Why? Because there is an elderly woman suffering from dementia, who is very upset and confused."
As you can imagine, it would be very frightening if you had dementia and suddenly, a security guard was approaching your seat. The passengers who were nearby could see what was taking place when the guard crouched down and prepared for what would happen next.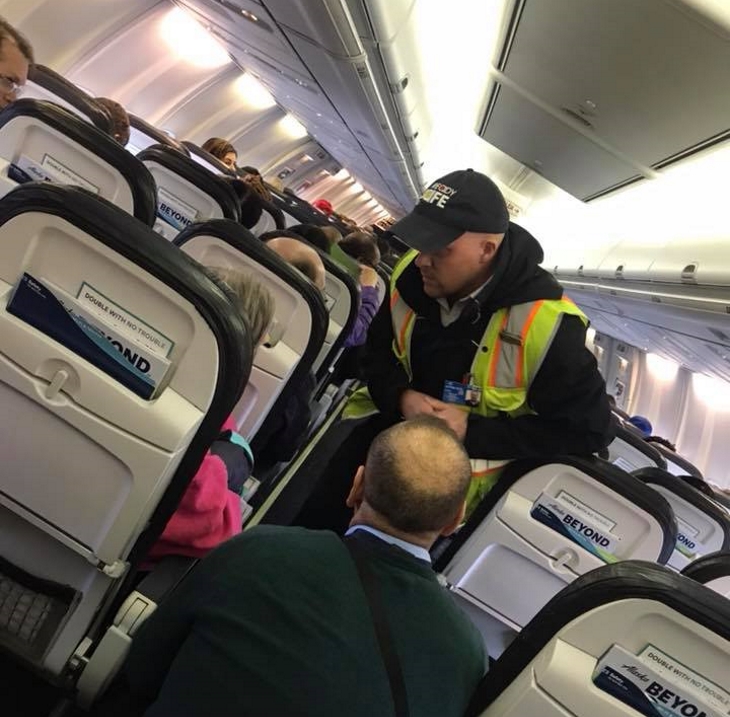 The elderly woman was obviously confused and she was cuddling with her emotional support dog. She just couldn't figure out what was happening to her. It can be difficult for someone with dementia to live in any situation, let alone being stuffed in tight quarters inside of an airplane.
"The incredible staff of #alaskaairlines is being extremely patient and compassionate, in what can only be a very scary situation for her. Explaining every step, cuddling her dog, working with her husband/caregiver to find the best solution."
Fortunately, this isn't a story that ends with somebody being dragged off of a flight against their will. Kristen wasn't upset when she saw what was going on. She understood that problems happen and rather than being frustrated over the delay, she was happy that she was seeing something heartwarming taking place in front of her.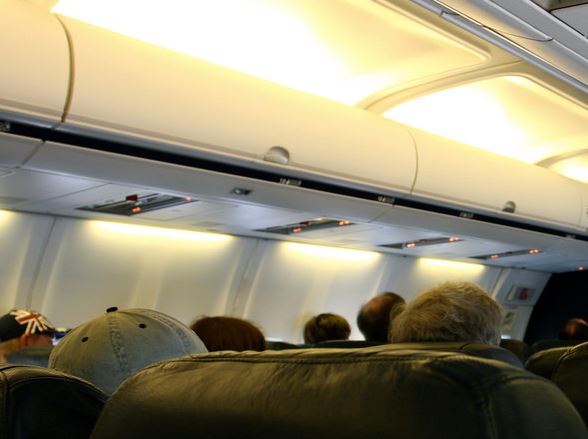 There was a lot of compassion shown by the flight attendants and they didn't leave everyone confused as to why this woman and her husband were being taken off the plane. She just needed some extra time so that she could feel comfortable with the trip.
"Alaska Airlines calmly assisted the woman, her husband/caregiver and sweet pup off the plane, providing hotel and transportation with plans to rest up and try again the following day. Again, incredible compassion given to the both of them while quietly explaining the situation to other passengers."
Airlines certainly do take a beating on social media and if there is any drama on a plane, somebody is going to take pictures and a video. It's nice to see the good side of things every once in a while, and Kristin did her part in spreading some good news.
"This is how I would want my mother, my sister, my aunt, my daughter, my niece, my friend cared for. "
Every one of us needs to be treated compassionately in life. It's not only the airlines, but it is all of us who have the opportunity to make it happen.
Since posting this story, it has been shared thousands of times.