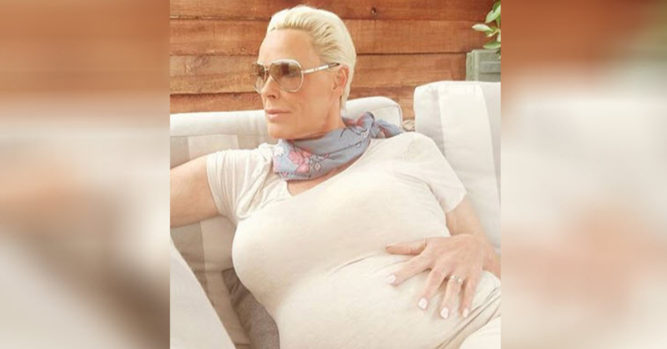 Most of us would probably agree that raising children is a game for the young. Then again, we live in a world that is quite different than it was just a few short years ago. Today, we see people who are living to be a much older age and when they care for themselves properly, they can experience a lot of activities in their older age that were typically reserved for the young. Perhaps this is best seen in the case of Danish actress, Brigitte Nielsen.
Nielsen is a mother again and she couldn't be happier. Her first daughter was recently born, although it is not her first child. She had her fifth child and she is 54 years old! Bridget and her husband, Mattia Dessi were happy to announce the birth of their first daughter on Friday and her name is Frida. She was 5 lbs. 9 oz. at birth.
Mattia is Nielsen's fifth husband and they were married in 2006. Her other four children, all sons, come from previous marriages. Those children are Julian Winding, is 34, Killian Marcus Nielsen is 28, Douglas Aaron Meyer is 25, and Raoul Ayrton Meyer, Jr. is 23.
Nielsen had recently shared an Instagram picture of her son Killian when he was a baby. She posted a picture of herself with three of her sons as a throwback as well. It may have been some nostalgic feelings, considering the fact that she was getting ready to give birth.
Nielsen played in the number of movies, including Beverly Hills Cop II, Red Sonja and Rocky IV. New pictures of baby Freda have been shared as of yet.
The new couple seems to be very happy to welcome the baby girl into the family. She announced that she was pregnant on Instagram and may but she got some pushback because of her age. That being said, any criticism didn't stop them from posting some happy pictures of their family.
Everything seemed to of gone very well during the pregnancy and birth. The last pregnancy happened 23 years ago. Hopefully, they will share some pictures soon.
Congratulations to the happy parents!