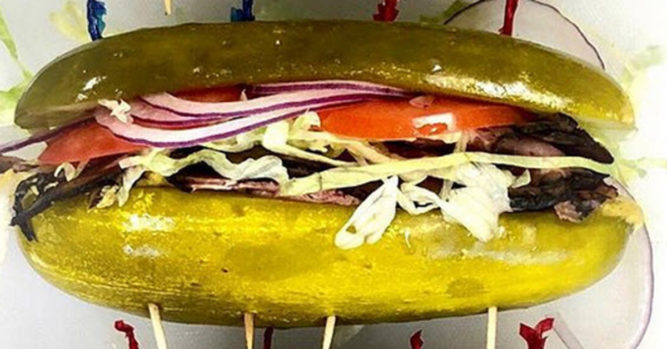 Although we all probably have a favorite food, one that most of us would agree can be delicious is a sandwich. After all, they can be made in so many different ways and when they are made properly, they have the ability to make you drool. Perhaps that is how you would feel if you stop by Elsie's, a sandwich shop in Haddon Township, New Jersey. What they have done is to replace the bread on the sandwich with pickles and you have to taste it to believe it.
You might wonder why this brilliant idea hadn't been thought of before. It actually came about by accident when Catherine Cohen, who is the co-owner of Elsie's discovered something. She said, "My mom is a diabetic, and I made her a pickle sandwich instead of using bread. In the original store, we weren't zoned for seating but we had a dining room set up in there. And she was out there eating one day and somebody said, 'Hey, I want one of those!"
The store is now well known for serving up these pickle sandwiches. One of the popular sandwiches is the Homage Jo Katz Roll, which is made with roast turkey breast, corned beef, Swiss cheese, homemade coleslaw and Russian dressing.
The Haddon Roll is also a popular choice. It is made from roasted turkey, lettuce, tomato, red onions and sweet peppers. That isn't even to mention their build your own sandwich choice.
Cohen said: "There were lines out the door. We took our family pickle recipe and basically rebranded it. We started making sandwiches in pickles, roll-ups on cucumbers and roll-ups on pickles, and people lost their minds!"
You can even read the reviews of their sandwiches on their Facebook page. "Elsie's pickle sandwiches are the best!!! Very tasty and fresh!!!" one customer wrote. Another added: "Staff is great and food is amazing… Go and visit and you will never wanna leave. The smell is AMAZING!!!"
I guess we have to head over and try it for ourselves!