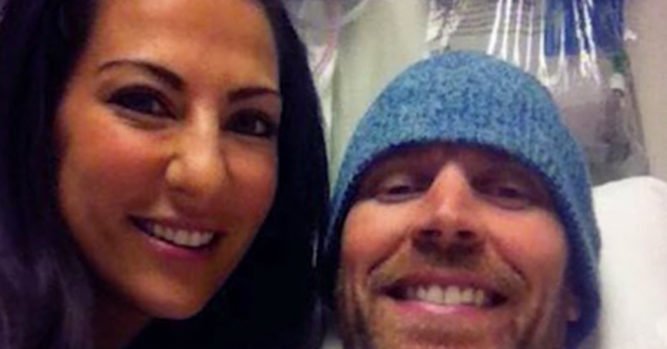 When you are involved in a loving relationship, it seems as if everything goes smoothly at all times. That is especially true during the initial phases of the relationship when either person can do no wrong. Unfortunately, life begins to rear its ugly head and before you know it, we often have our first hurdle in the relationship. For some of us, that hurdle may be easily overcome but for others, it can be a devastating revelation.
When Rob Mooberry met Amanda, his future wife, they were working together at The Cosmopolitan Hotel in Las Vegas. He was working as a bartender and she was a cocktail waitress. They started dating and they knew it was love almost instantly. While they were dating, Rob was having some medical problems that included quick weight loss and suffering from stomach pains. He lost 60 pounds within a year.
The couple went to many doctors but they couldn't discover what was wrong. It was only after exploratory surgery that it was discovered. They made that decision because the surgeon said that "no healthy man loses 60 pounds in one year."
When the surgery was over, they received news that was devastating. He had stage 4 terminal cancer. A fist-sized tumor was removed during the exploratory surgery. It started out as colorectal cancer but then it spread to his bladder, lymph nodes and aorta track.
They only gave him a few weeks to live.
As Amanda was in the hospital next to Rob that night, he turned to her and whispered, "I want to get married."
Amanda agreed and while Rob was out of the hospital for two weeks prior to getting chemotherapy, they got married.
Unfortunately, the first round of chemotherapy did not show any improvement. They decided to stop the treatment and take a holistic approach.
Amanda said, "We both changed our diets to strictly vegan, experimented with different herbs, and even did coffee enemas."
The doctors told him that they were crazy but in only three weeks, the cancer was 80% gone. By the time December 2014 rolled around, the cancer was gone completely.
Facebook video may take a moment to load:

This couple was ready to move forward and start a family together. The radiation treatments have made it unlikely that pregnancy would occur so they decided to go with in vitro fertilization.
Unfortunately, the first pregnancy resulted in a miscarriage but they were soon pregnant with twins. Those twins were born in 2016.
Amanda had the following to say about their experience: "It's crazy to think that a few years ago we had all the odds stacked against us, but it just goes to show you that love can create miracles"