Dean Martin is considered a giant among giants in Hollywood and one of the world's best crooners. The legendary "king of cool," was not only a fantastic entertainer and singer, but he was also hilarious. Martin's talent knew no bounds!
In recent years, many Dean Martin fans we surprised to learn some astonishing things about their icon from none other than his daughter, Deana Martin. His daughter cleared up a lot of rumors about her legendary father and confirmed one that many fans always suspected.
Raised the Italian Way
When Dean Martin was a child, he grew up in a family steeped in Italian traditions. Dean was born in Steubenville, Ohio, as Dino Crocetti. His dad was an immigrant, born in Italy, and worked as a barber. And Dean's mom worked as a cook, seamstress and was born in America.
However, Dean's mom spoke fluent Italian. In fact, it was her preferred language. Dean didn't learn how to speak English fluently until he started school at age five! It took Dean a while to learn the language, and in the meantime, he endured lots of teasing at school because of his very thick Italian accent.
Dean dropped out of school in the 11th grade and took a job at a local steel mill. Young Dean was working as a gas station attendant when he decided to try out a career as a professional boxer. Dean's nickname as a boxer was "kid Crochet," and he was a reasonably decent fighter, winning 25 out of 36 bouts.
One day, someone mentioned Dean's singing talents, and the young man was soon performing in different nightclubs nationwide.
During a performance in Atlantic City, New Jersey, Dean made a connection that would change his life forever when he met the up-in-coming superstar Jerry Lewis.
Martin and Lewis soon became a fantastic team, who were highly talented and terrific friends. This chemistry would go on to take their films and TV shows to the next level. Many consider Dean Martin and Jerry Lewis to be a groundbreaking comedy duo.
But, Jerry Lewis probably said it best: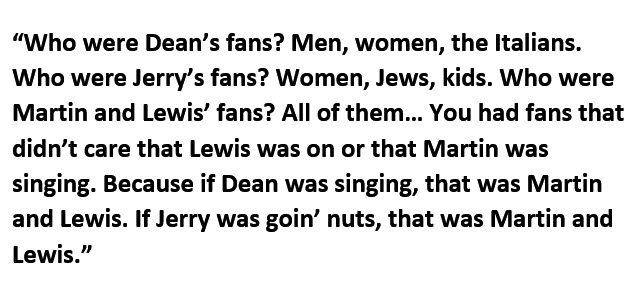 Why Did Jerry Lewis and Dean Martin Go Their Separate Ways?
Dean and Jerry were two of the hottest talents in Hollywood and became the highest-paid entertainer in the business! But after a decade together, the two men decided to pursue separate paths.
Their breakup was excruciating, so much so, the two men didn't speak to each other privately for over two decades! There are a lot of rumors and theories as to why the two entertainers split up, but in truth, there was no one reason — instead, a multitude of reasons.
The most common point of contention between the two had to do with their different work ethics. Many always described Jerry Lewis as a severe workaholic. His energetic and slightly manic on-screen persona was an expression of what drove him to produce tons of shows, movies, live performances. And while Dean worked hard as well, he pursued his career at a much more relaxed pace than his partner. For Dean, he believed it was essential to have a life outside of work, and he loved to relax while playing golf and spending time with his family.
Dean was also tired of being limited to only playing leading roles in romantic films.
Then there was the underlying general perception that the real star of the duo was Jerry Lewis and that some folks thought of Dean Martin as the "fifth wheel" in the act. That perception was further fueled by a memorable cover photo taken for Look magazine in 1954. When the magazine published the picture, they chose to crop out Dean Martin!
Dean felt that his partner let him down, and the two men's disagreements continued to escalate. Eventually, Dean and Jerry couldn't continue their working relationship. At one point, Dean yelled at Jerry, saying you are "nothing to me but a dollar sign."
Lewis later admitted that he had regrets about how their friendship ended. And the fact that these two giants didn't speak a word to each other for over two decades was a thing that haunted Jerry Lewis for all his remaining days on earth.
The Heartwarming Reunion of Two Legends
View this post on Instagram
Unlike many dissolved friendships, Jerry Lewis and Dean Martin's story has a happy ending.
During the 1976 Jerry Lewis MDA Labor Day Telethon, Frank Sinatra arranged a surprise that brought everyone to tears. Sinatra was a frequent guest on the yearly telethons and secretly invited Dean Martin to make a surprise appearance. During the live event, Sinatra introduced Martin telling Lewis:

During a moment that would go down in TV history, the former friends tearfully embraced and spoke to each other for the first time since their split in 1956. Over 85 million Americas witnessed their emotional reunion, and you can relive this powerful moment in TV history in the video below.
Just after their reunion in 1976, Jerry and Dean continued to speak to each other every day.
Deana Martin also revealed more details about her father and Jerry's friendship after they reconciled. Over the years, she gave several interviews to keep her dad's legacy alive.

Family Was Always Important
Many fans have a romanticized image of Dean Martin. After all, he was a member of the famous (or infamous) "Rat Pack," a group of crooners and entertainers consisting of Dean Martin, Sammy Davis Jr., Peter Lawford, and Joey Bishop. Later, Angie Dickinson would also become an honorary member.
However, far from a rogue playboy, Dean Martin was actually a very devoted family man. Dean was married three times and, between those unions, had seven children and one stepdaughter.
One of Dean's biological children is Deana Martin, who recently began revealing many secrets about her father's life. Some of these details cast a new light on Dean Martin.
For example, Deana says that her dad wasn't the cool, relaxed, easy-going persona fans saw on TV, in movies, and at live performances. His daughter claims he was a pretty strict dad at home.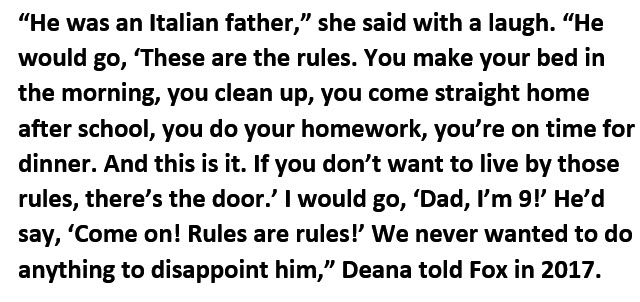 According to Deana, people have spread a lot of misconceptions about who her dad was in his private life because they associated him so closely with his larger-than-life onstage persona.

Rumor Confirmed
Despite all the crazy unfounded rumors swirling around her dad, Deana confessed that one of the craziest and most persistent rumors was true! However, those rumors that described her dad as a womanizer couldn't be further from the truth.
Unlike other Rat Pack members, Dean Martin had a very stable and traditional home life.

Deana Martin followed in her dad's footsteps, pursuing a career as an actor, singer, and entertainer.
She also debunks another myth concerning her dad's alcohol consumption.

But there is one rumor she confirmed as authentic. In 2017, Deana shared that her father did indeed have plastic surgery on his nose before hitting it big in Hollywood.
She also said that Dean paid back his unknown benefactor, who gave him the cash to pay for his nose job, giving his nose a narrow look.

You can watch a video about Deana Martin's revelations about her dad below.
Did you learn something new about Dean Martin? Please be sure to pass this story along to your friends and family.