We are exposed to art on a daily basis and sometimes, it comes from areas that we might not expect. Street artists are perhaps the most common areas and they typically paint their masterpieces on old train tracks, abandoned buildings and perhaps even the sidewalk. We have seen these artists in action, although we don't always see them in the act. There are also many other artists and some of them display their talent in ways that you might not expect. That is the case with artist Jan is De Man.
He has made it his goal to connect with the community and provide them with something beautiful in the process. His projects are not only in the public eye, they offer the opportunity for residents to commission him and to identify themselves because they get involved in the work. His most recent gift was to a neighborhood and it was a mural bookcase painted on the side of an apartment building in Utrecht, Netherlands. Just wait until you see what he is able to create!
Janis De Man and Deef Feed are street artists who team up to create a mural for a neighborhood in the Netherlands.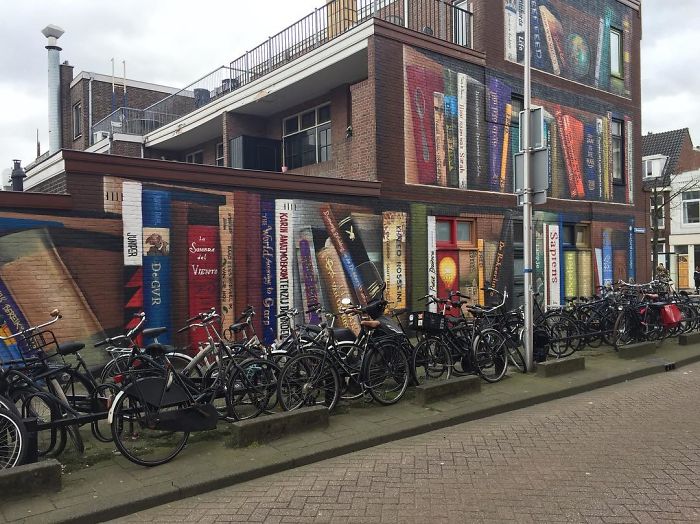 The location for this mural actually took place before the concept: "I know the people who live on the ground floor very well. They've wanted a mural by my hand for a while. They also wanted to let me feel free in my design as long as it would bring something positive to their neighborhood. The first idea was to paint a smiley. A very big smiley. Because I believe people become more happy when they see a smiley every day. But this idea didn't feel complete, it felt too simple."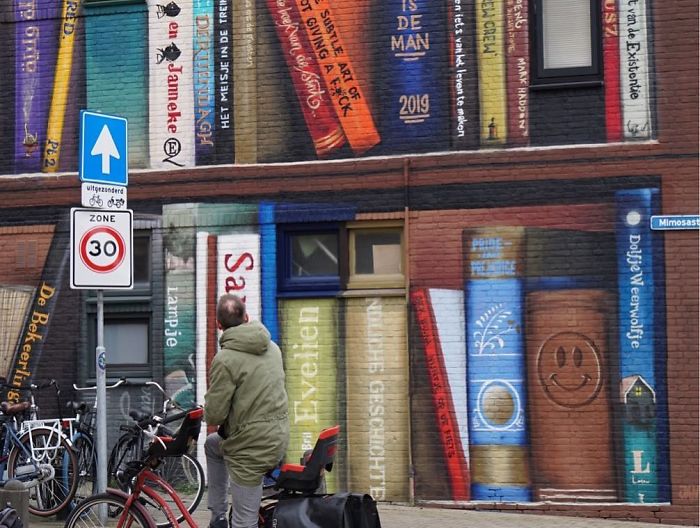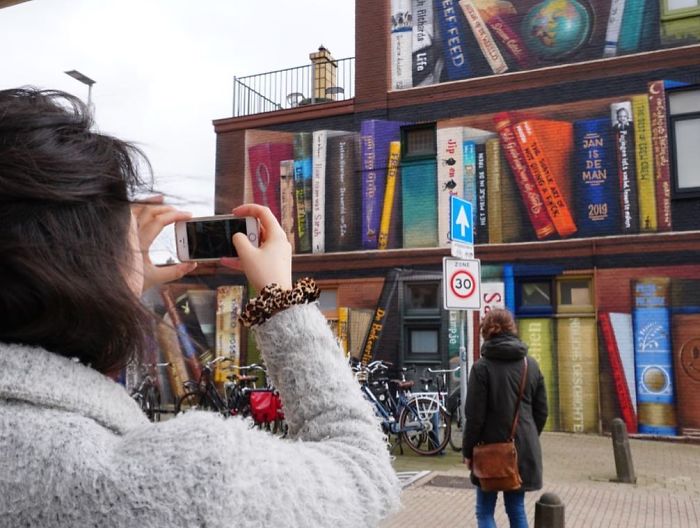 He studied the 'canvas' and then came up with the idea: "visual illusion in art, especially as used to trick the eye into perceiving a painted detail as a three-dimensional object." He said, "I studied the shape of the house and the location where this house stands in and suddenly the idea of making a huge bookcase hit me. I love making illusions on walls and I like to see smiles on people's faces and this idea (I thought meanwhile) could bring all this together."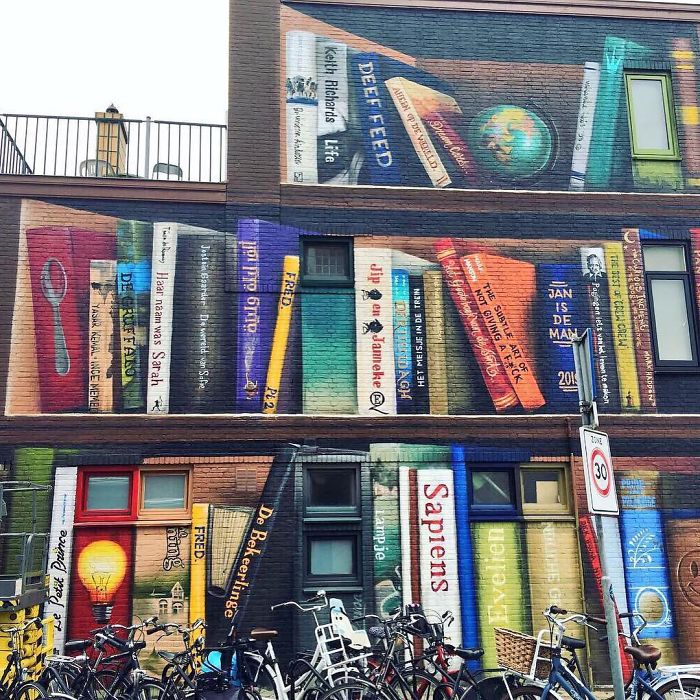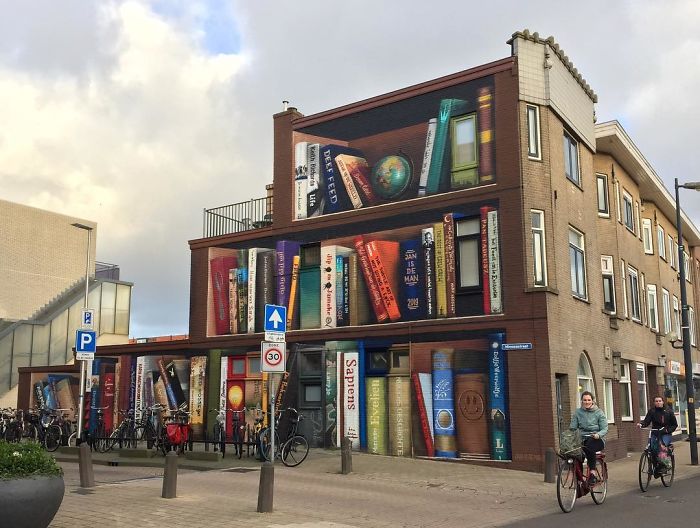 He also wanted to get the residents involved in the process: "We entered the community by asking people for their favorite books and we were able to put 8 languages and cultures together in the same concept. Everybody, every age, every culture, every language was welcome. The only rule I set up to participate in this art project was: no political books and no religious books. Besides that every book title was welcome."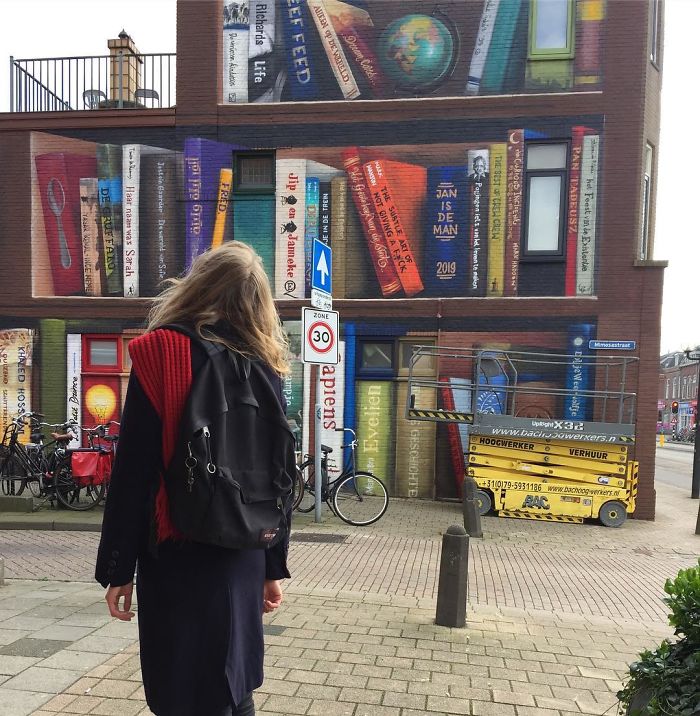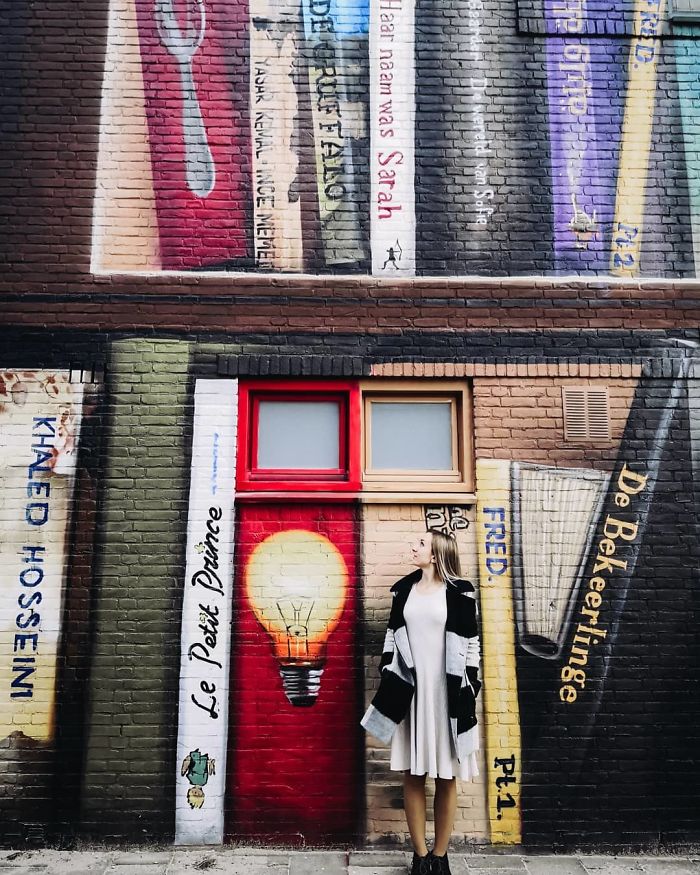 It took a week of working to take the concept from a piece of paper to the side of an apartment building. The conceptual planning was the most difficult part: "think most of the time the most difficult [part] is to get the right concept, that fits the wall, that fits the neighborhood. but when you got the right idea, then there is not much difficult."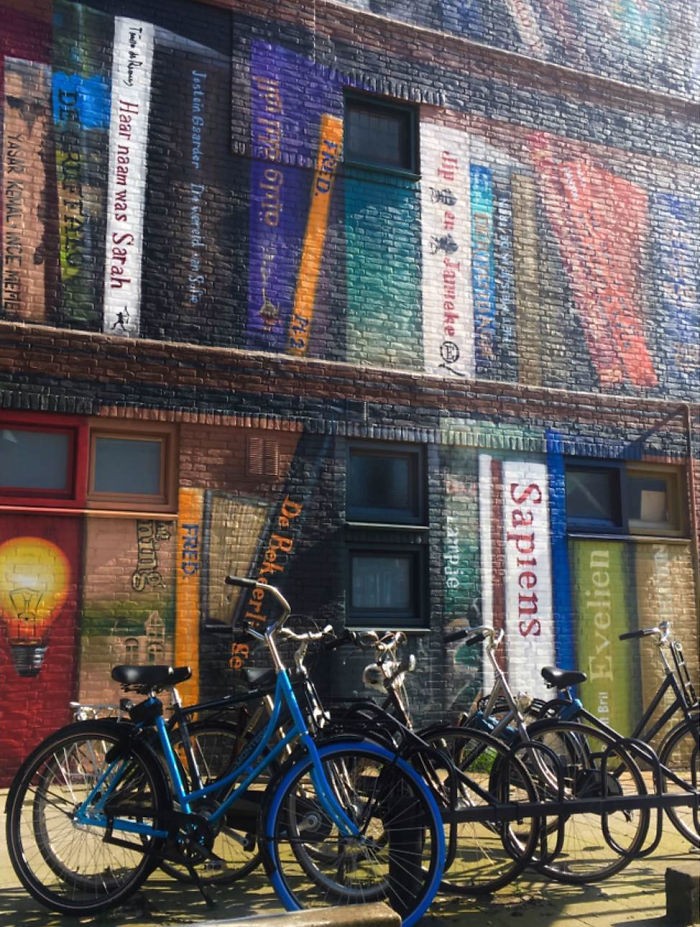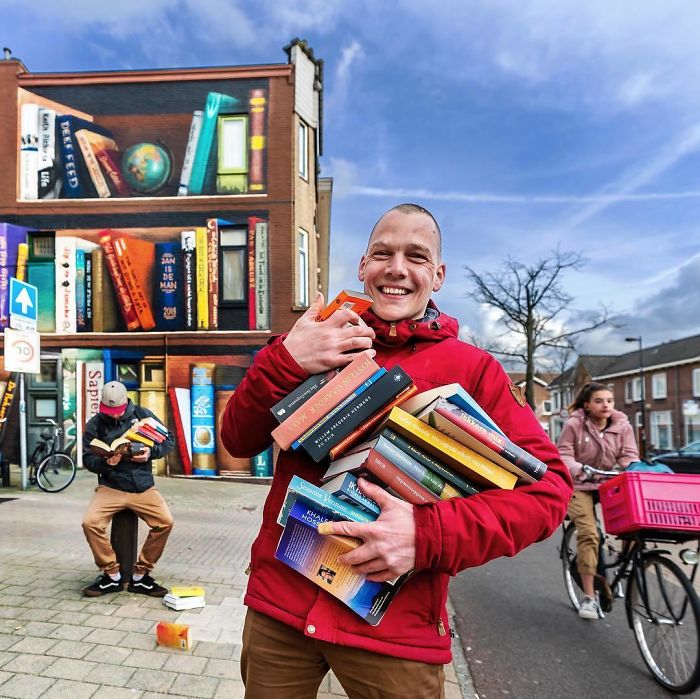 Although there are many books including one of the favorites for the artists was: "the curious incident of the dog in the nighttime" written by Mark Haddon And of course the Playboy."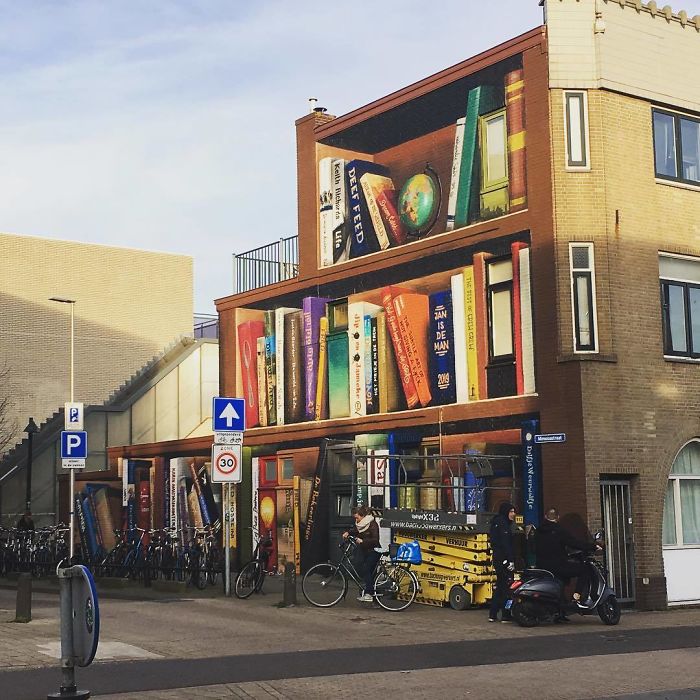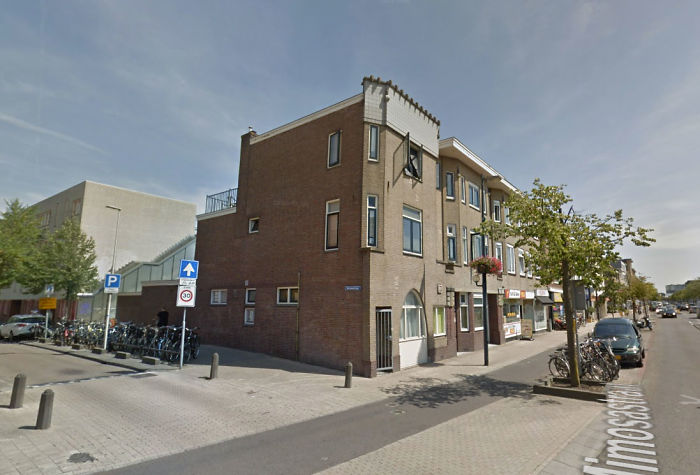 This is more than a resource of beauty for the community, it is a place where people stop and take a literary selfie. "The neighborhood where this work was made is filled with different cultures. And I've noticed that this project brought (and hopefully for as long as it lasts) people together without pushing it. They meet each other through books. Regardless of the differences in cultures, regardless of the differences in political point of views. Regardless of being extreme right or extreme left."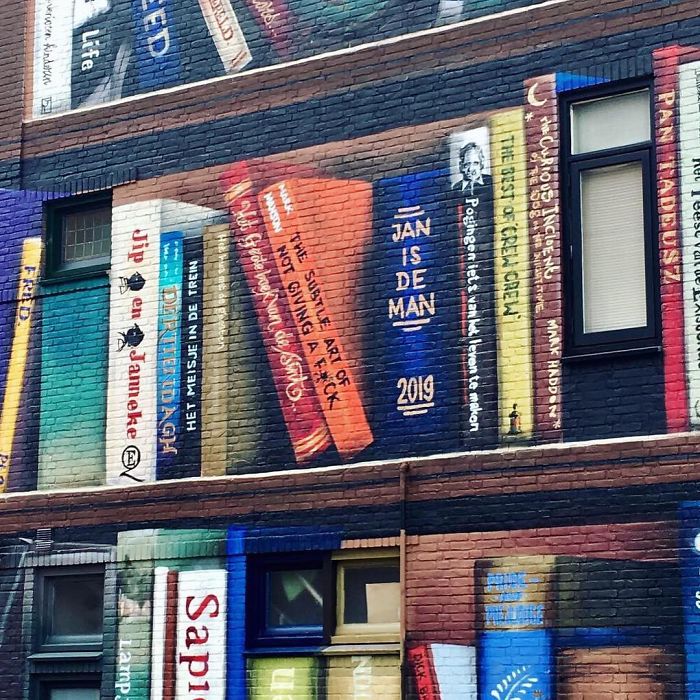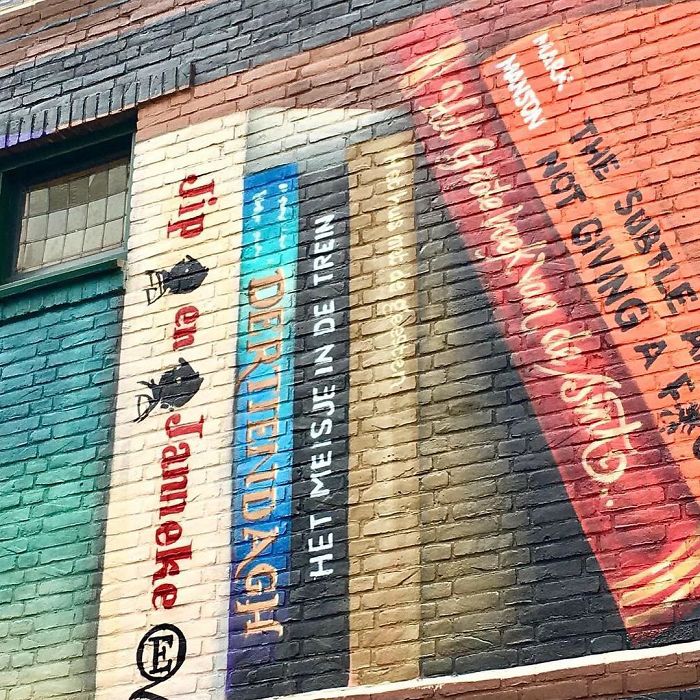 So what's next on the agenda? "there is a lot of things coming, but I don't like to tell plans, because I believe that if you tell your plans they don't work. It sounds corny, but in the end, actions speak louder than words.." I guess we'll just have to wait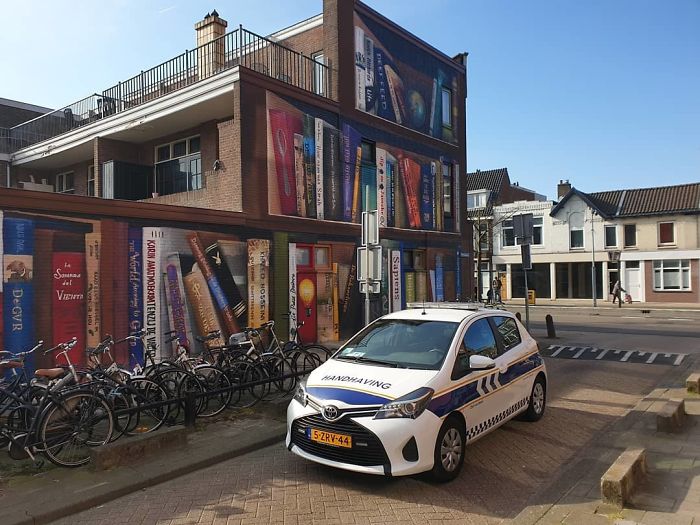 People had a lot to say: